Tie Belt Dress – Multisize sewing pattern
My new sewing pattern, the Tie Belt Dress, is designed for people, like me, who have eaten too much over Christmas. The beauty of garments that have a tie belt is that you can pull them in as much or as little as is comfortable for you. So after that enormous dinner, you can let them out just a little bit to accommodate your expanded middle!
But seriously, we are all different shape and sizes and often the standard sizes don't work, so this little bit of adjustment is another bonus comfort and fit factor for everyone.
My Tie Belt Dress is an A-line shape with a dipped hem which is
slightly longer at the back than the front. The sleeves come to the elbow with little turn-ups that look great in a contrasting fabric. The belt is integrated into the seam of the dress so it never slips down and you don't get bunching of excess fabric at the sides.
Tie belts are having a bit of a trend at the moment. Here are a couple of lovely ones (below) from Asos and Cos that caught my eye and inspired me to crack on with a design of my own.
This is probably my easiest dress yet. It works well is most fabrics. It looks as good in denim as it does in satin or faux suede. The green/grey fabric I've used is a gorgeous double sided satin / suede. I love the way you can see both sides of the fabric on the belt and the sleeve turn-ups. I got it from the Knitting & Stitching Show at Ally Pally earlier this year (but can't remember who exactly – sorry great fabric supplier).
Have a look at my other post for Mollie's other makes and pattern hacks for the Tie Belt Dress. It is easily adapted into a relaxed top or a midi length dress with pockets.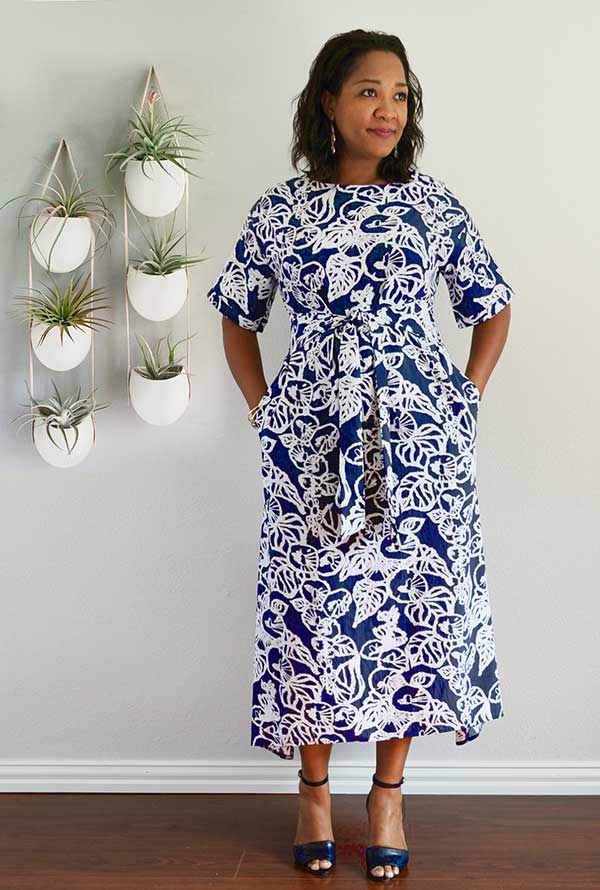 You can find the pattern here available as either an instant download or on good quality paper. It comes with fully illustrated instructions and all the technical information about fabric quantities, sizing and layout that you will need.