The Essential Denim Dress – MULTISIZE SEWING PATTERN
The Essential Denim Dress is a design that has ben whirling round in my mind for a while now, and I have finally got it down on paper. It's perfect for everyday, utilitarian wear. The cap sleeves are part of the main body (how easy!). It pulls in slightly just under the bust and splays gently over the hips. Diagonal lines are always flattering and the under-bust seam balances nicely with the oversized practical pocket. (There is an interesting article here about how diagonal lines work on the body.) There is one dart in the top bodice section and the other dart is neatly hidden in the seam between the bodice and front panel. This tunic is super comfy, but with enough fitting to make sure you have a shape! The multisize paper pattern is available here.
As you can probably see from my initial sketches, it was 70s style patchwork denim that originally inspired me. It may be the big thing at the moment but, regardless, I have always loved the 70s look. I have an EXTENSIVE collection of inspiring dresses on my Pinterest page. I have included a few here to give some ideas about different ways of using your denim. (Far left is Junya Watanabe, middle is Anthropologie and right is a recycled project I found on Pinterest.)

In fact, I've done a whole post on the mix and match denim look, complete with advice about how to achieve a TRUE denim feel with a twin needle to create a double line of overstitching (just like on your favourite jeans). I used bright orange stitching on the Essential Denim Dress in proper Levi style.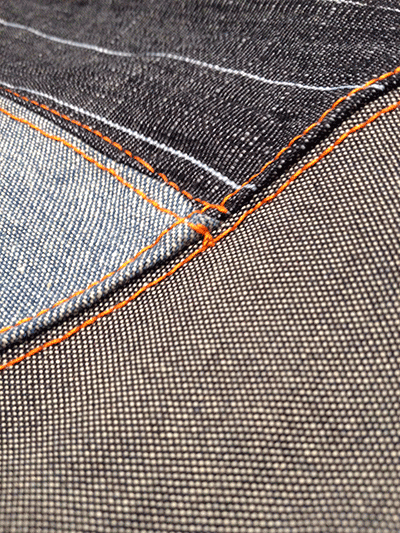 Denim, by nature, is quite thick, and this slight stiffness helps the dress hold it's A-line shape. All the denims I have used here are from Fabworks Mill Shop (who have a great range on denims available online). Obviously, you don't have to stick to denim – you can make up this pattern out of ANY mix and match of fabrics providing they are all a similar weight to one another. For best results, to maintain the boxy tunic look, the fabric needs to be quite substantial. To get this utilitarian look, I would stick to medium / heavy cotton and wools, scuba, ponte or heavy linen.
However, if you are looking for something a bit lighter and softer for the summer then have a look at my other version here. It's made from a textured denim-look polycotton and is paired with a very pretty  floral devoré fabric that I picked up on a market stall. The sections of flower fabric that look blue are actually transparent, with a blue lining. Shirting weight fabric would be fine for this look. It's finished with white twin needle top stitching. The dress has a much lighter prettier look in these fabrics but still holds its shape well. I think it would look great with flip flops and would be perfect to throw on over the top of a bikini.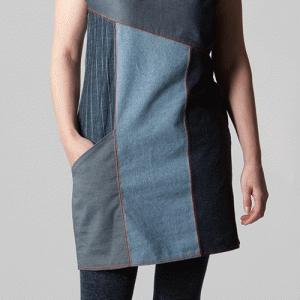 Finally, just a word of advice for when you are making the pattern – all these diagonal shaped bits of fabric get pretty confusing once they have left the safety of the cutting table. It is really worth labelling each piece ABC etc with tailors chalk. You need to do it consistently on what you want to be the right (or wrong) side of the fabric. I say this because if you are using both sides of your denim to give you 2 different colours as I have suggested in the sewing denim post, you could be going round in circles (like I was,) trying to figure out what goes where.
The Essential Denim Dress comes as multisize paper pattern available here.
(The  Essential Denim Dress is no longer available as a free pattern – sorry for any disappointment but there are lots more free patterns on the patterns tab so please have a browse.)
If anyone wants to upload a picture of their finished pieces to their own blog or site once they have made them, just send me a link and I will include it in my post so that other people can see your versions.